WATERFOWL HUNTING IN MARYLAND ON THE EASTERN SHORE & CHESAPEAKE BAY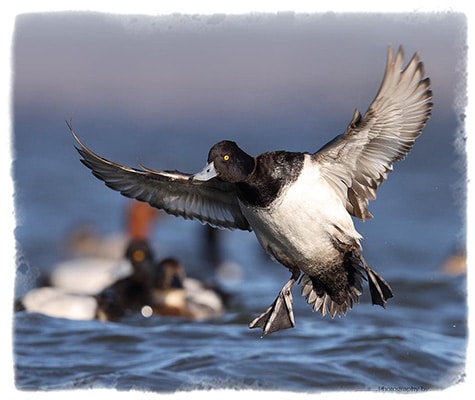 Harrison's Outfitters Service strives to find the best marshes, the best fields and creeks, to give you a hunting experience you will want year after year. We hunt choice farms and waterways in Talbot, Caroline and Queen Anne's Counties. I enjoy and believe in what I do, and I want to give you the opportunity to do what I have enjoyed for many years. Prices vary based on what we hunt, and whatever extra accommodations you may request., but you can be assured that we will make every attempt to fulfill your hunting desire.
Harrison's Outfitters Service also offers a Cast and Blast which allows you to enjoy both striper fishing and sea duck hunting in the same trip. Our cast and blast trips run from October 1 through mid November.
Harrison's Outfitter Service can make arrangements for quality lodging from economy to luxury. We can recommend one of our many fine restaurants in the area or sporting goods stores nearby. We want you to enjoy the entire experience and will go the extra mile to make your hunt a success. A 50% deposit is required to reserve your hunt date.
Please call Harrison's Outfitter Service at 410-714-2200 for hunting seasons, limits, license information and rates.
What to Bring:
Maryland Resident Hunting License or Non Resident License with state and federal waterfowl stamps.
12, 16, or 20 Gauge Shotgun with non-toxic shot. We suggest using #2 shot or larger.
Camouflage clothing and or rain gear to match your surroundings with chest waders recommended along with a face mask, face paint and hat and gloves. Maryland's weather is constantly changing and we want you to stay warm and dry.
Pricing:
Please call Harrison's Outfitter Service at 410-714-2200 for current pricing.
Seasons:
Ducks, Coots & Mergansers
Regular Duck Season Oct. 13 – Oct. 20
Nov. 10 – Nov. 23
Dec. 11 – Jan. 26
Black Ducks
Black Duck Season Nov. 10 – Nov. 23
Dec. 11 – Jan. 26
Duck Daily Bag and Possession Limits: The daily bag limit of ducks (including mergansers) is 6. The 6-duck limit shall consist of no more than 5 long-tailed ducks, 4 scoters, 4 mallards (max. 2 hen mallards), 4 scaup, 3 wood ducks, 2 pintails. 2 redheads, 2 hooded mergansers, 1 canvasback, 1 black duck (during black duck season), 1 fulvous tree duck, and 1 mottled duck. All other species of ducks (except harlequin duck) may be taken up to the 6-duck limit. The possession limit is twice the daily bag limit. In addition to the duck bag limit hunters may take 15 coots per day. No open season for harlequin ducks and swans.
Sea Ducks (Scoters, Long-tailed Ducks, and Eiders)
Season: Oct. 1 – Jan. 31
(Only in Special Sea Duck Zone)
Daily Bag Limit: 5 (no more than 4 scoters) per day
Atlantic Population Canada Geese
Season: Nov. 17 – Nov. 23
Dec. 11 – Jan. 30
Daily Bag Limit: 2 per day*
AP Hunt Zone: Anne Arundel, Baltimore, Calvert, Caroline, Cecil, Dorchester, Harford, Howard, Kent, Queen Anne's, Somerset, St. Mary's, Talbot, Wicomico, and Worcester Counties; and that portion of Carroll County east of Route 31 to the intersection of Route 97, and east of Route 97 to the Pennsylvania line; and that portion of Prince George's County east of Route 3 and Route 301; and that portion of Charles County east of Route 301 to the Virginia line.
*Bag limit may include Canada geese, cackling geese, and greater white-fronted geese singly or in aggregate.
Deposit:
50% deposit is required for each hunter at the time of booking your hunt. The balance is due at the time of hunt.
Cancellation Policy:
Due to a limited number of parties, Harrison's Outfitter Service has a strict cancellation policy that will result in a forfeiture of your deposit if you cancel your booked hunt.
Other Hunting & Fishing Trips Available:
Harrison's Outfitter Service also offers traditional Eastern Shore Canada Goose Hunts, Puddle Duck or Diving Ducks, Turkey Hunts, Whitetail Deer Hunts, Charter Fishing trips or even Mourning Dove Hunts, Harrison's Outfitter Service offers trips to cover all of your Maryland hunting and fishing needs.
BOOK YOUR HUNTING TRIP OR FISHING CHARTER TODAY!  CALL US AT 410-714-2200