SPRING TURKEY HUNTING ON THE EASTERN SHORE OF MARYLAND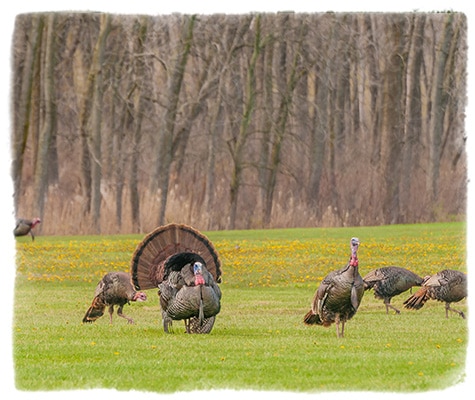 Harrison's Outfitter Service offers spring Gobbler Hunts by the day or 3 day hunts. We have farms throughout Talbot County and Dorchester County that are prime turkey habitat. Turkey season typically starts the third Saturday of April running until mid May. Let our experienced guides get you that trophy turkey of a lifetime.
What to Bring on your Turkey Hunt
Hunting License
Maryland Resident Hunting License or Non Resident License
Camouflage
Turkeys have such keen vision that good camouflage is a must have to avoid being seen. A full camo suit, cap, facemask and gloves are very helpful
Shotgun & Ammunition
The best shotgun and ammunition for turkey hunting is a combination that delivers a dense hard hitting pattern at 30 – 45 yards with shell sizes of #4, #5 and #6. Before hunting, pattern your shotgun to see which choke, brand of ammunition and shot shell size product the most uniform pattern and density.
Bow & Arrow
Some may prefer to harvest their spring turkey with a bow, camouflage & practice are very helpful prior to your hunt.
Pricing:
Please call Harrison's Outfitter Service at 410-714-2200 for current pricing.
Seasons:
April 18 – May 23 with Youth Day on April 13 & 14
Deposit:
50% deposit is required for each hunter at the time of booking your hunt. The balance is due at the time of hunt.
Cancellation Policy:
Due to a limited number of parties, Harrison's Outfitter Service has a strict cancellation policy that will result in a forfeiture of your deposit if you cancel your booked hunt.
Other Hunting & Fishing Trips Available:
Harrison's Outfitter Service also offers traditional Eastern Shore Canada Goose Hunts, Puddle Duck or Diving Ducks, Turkey Hunts, Whitetail Deer Hunts, Charter Fishing trips or even Mourning Dove Hunts, Harrison's Outfitter Service offers trips to cover all of your Maryland hunting and fishing needs.
BOOK YOUR HUNTING TRIP OR FISHING CHARTER TODAY!  CALL US AT 410-714-2200